"90% of all Problems are Cables"
MacMAD Meeting Topic Oct. 18, 2022
Cables are the unwanted stepchildren of our digital lives. More things are becoming wireless, but, we can't get away from cables entirely. There are a bewildering variety of cable types, which are ever-changing. I'm sure many of you have a box of obsolete Apple cables like this one: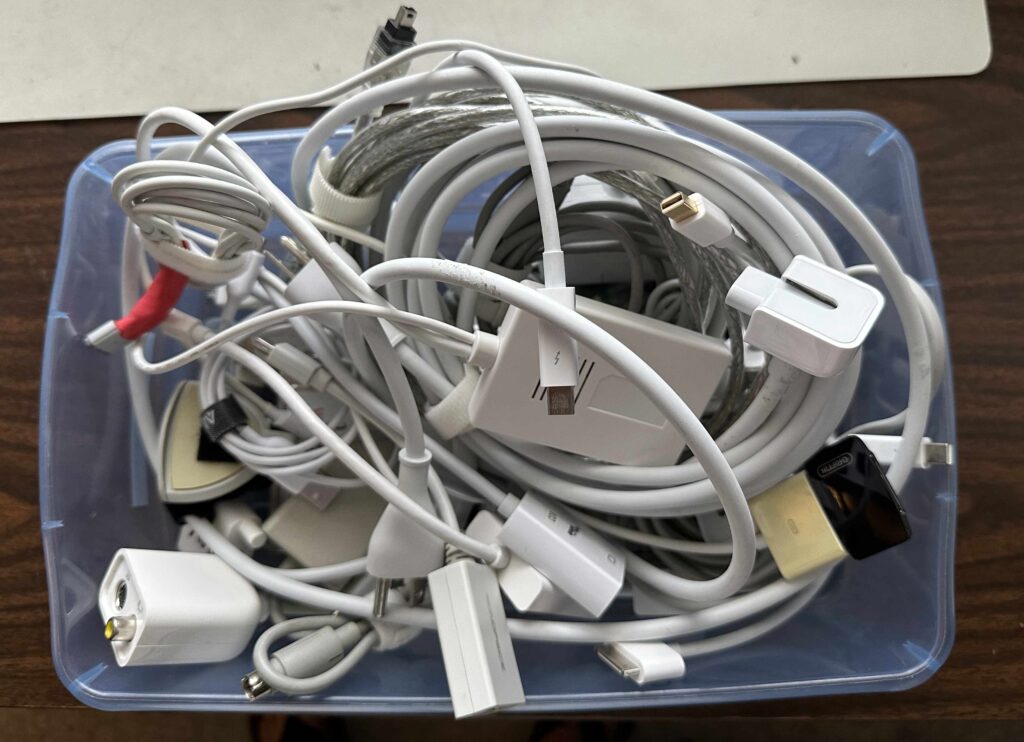 USB – Universal Serial Bus
USB (Universal Serial Bus) is probably the most-used cable and interface type you will come across. The secret to understanding USB naming is that, generally, USB numbers have to do with speed, but USB letters tell you the connector type. So, USB 3 is faster than USB 2, which is faster than USB 1.
The ABCs of USB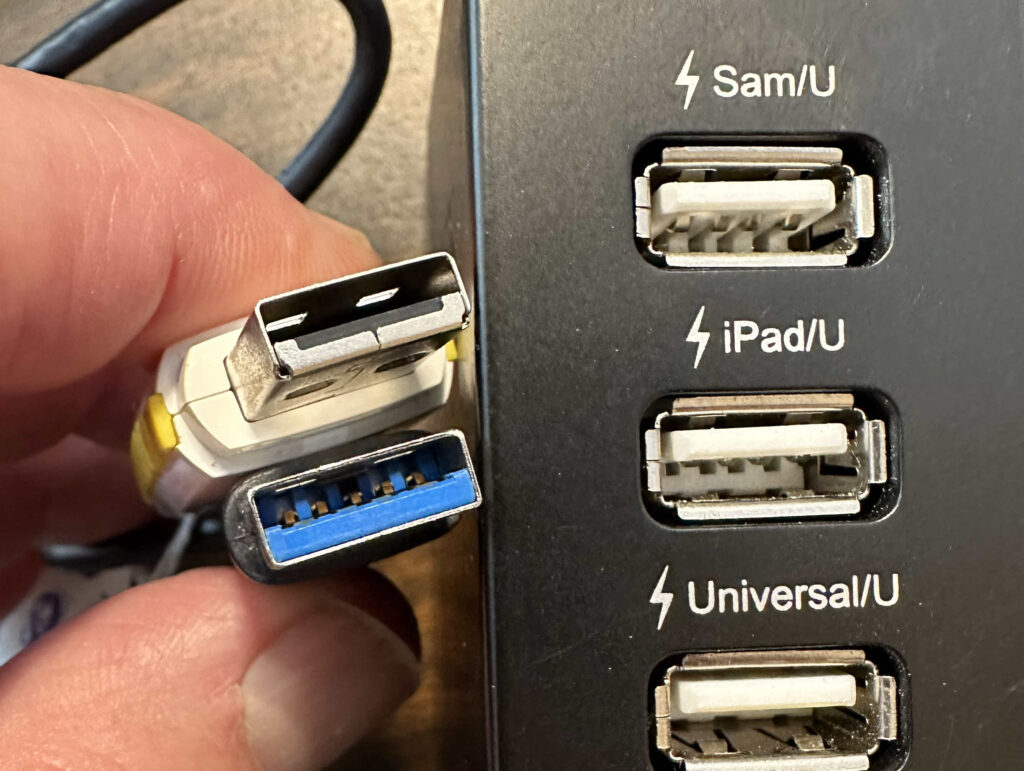 If you bought an iPhone in the last 10 years, it came with a lightning connector, and a lightning-to-USB cable. These were USB A cables for older iPhones, and USB C since (about iPhone 11?).
USB B was mostly for Printers – Rarely Used Now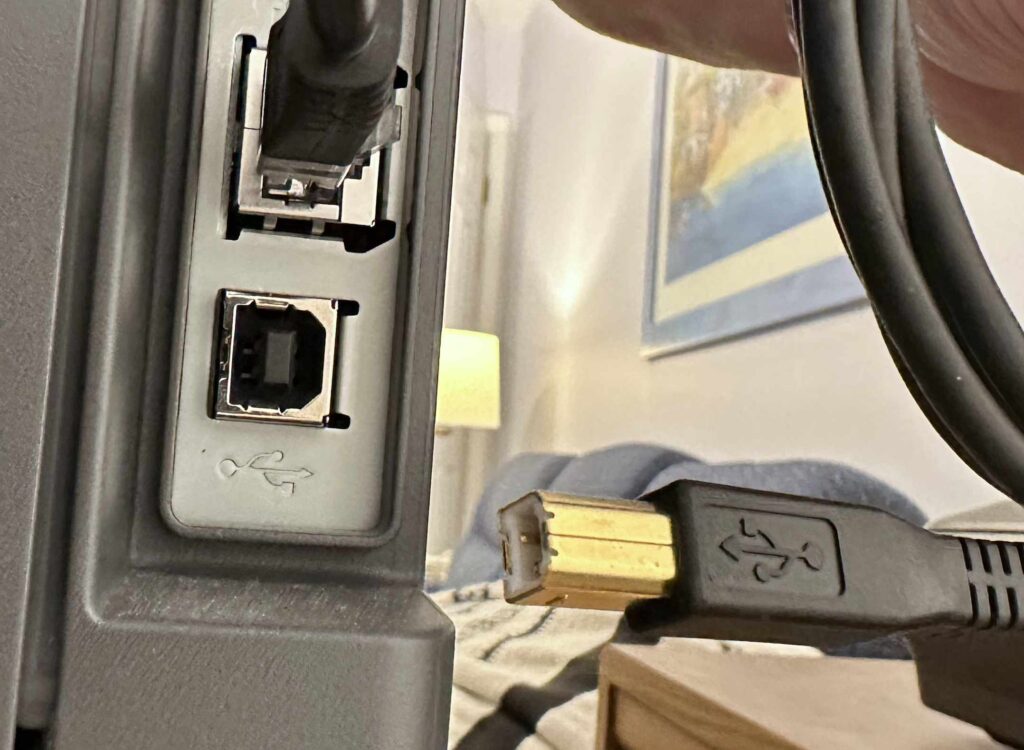 USB C is the Most Common Connector for New Devices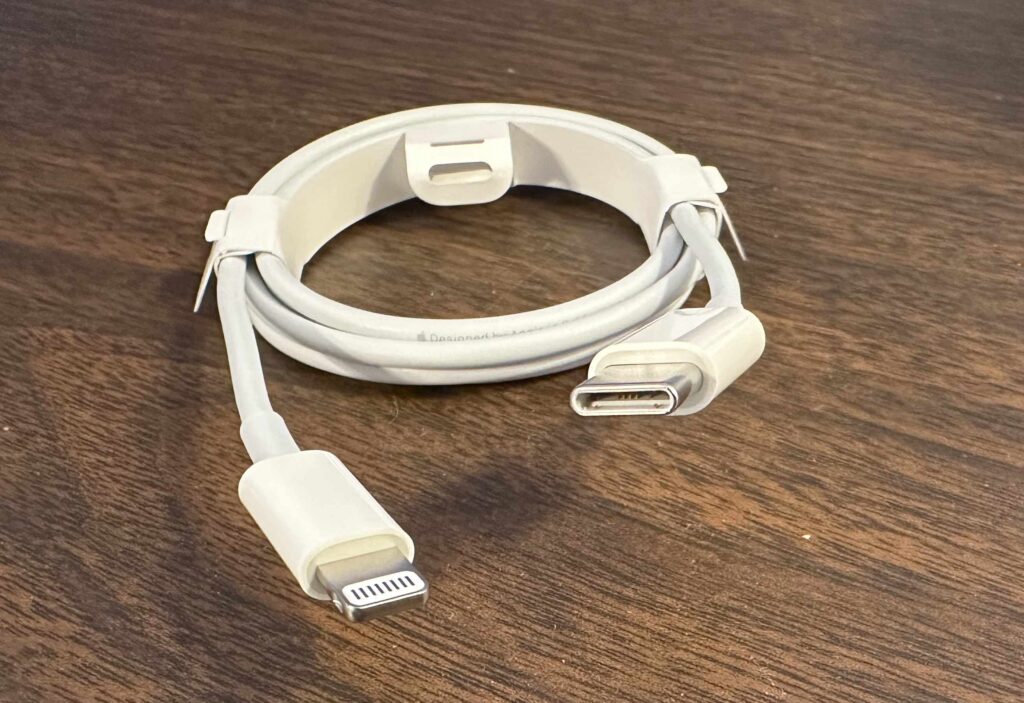 USB C has two popular features: The connector is very compact, and the connector is symmetrical, meaning that it will connect in either orientation. The USB C connector also carries the high-speed Thunderbolt hardware interface which used to require a separate cable and connector. Thunderbolt is used primarily for display devices and high-speed mass storage. The complex USB and Thunderbolt standards appear to be merging such that USB 4 is the same protocol as Thunderbolt 3.
The 1,2,3s of USB Speed
Choose Your Power
Recent iPhones and iPads may not have come with a power adapter, so it is up to you to make sure you have an appropriate one. Apple currently sells a bewildering variety of power adapters. Considering only the USB power adapters, there are are adapters with power ratings of 5W, 12W, 20W, 30W, 35W (dual), 67W, 96W, and 140 Watts. These are all USB-C, except for the older 5 and 12 Watt models. These are all for household plug-in use and do not include adapters for use in the car. A similar range of compatible adapters are also available from other companies.
Your device will not be harmed by a higher-wattage adapter. It will only draw the amount of current it actually needs. If you connect your device to a lower powered adapter, it may charge slowly, or not at all. If you connect your device to a higher powered adapter, it will charge faster, up to the device's maximum charge rate.
USB is a complex standard which includes multiple data and multiple power standards within the one USB name.
You may "know" that USB provides 5 volt power. However, for adapters providing more than 15 Watts, USB adjusts to 20 Volts. For power above 100 Watts, USB uses 48 Volts. This is all while maintaining compatibility with older 5 Volt devices.
If you still have the power adapter from a phone you got 10 years ago, even if it is "perfectly good", it is probably not sufficient for your newer devices.
Recommended Power Estimates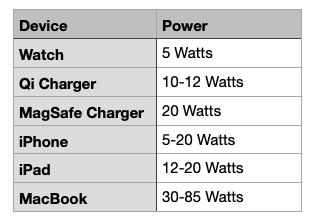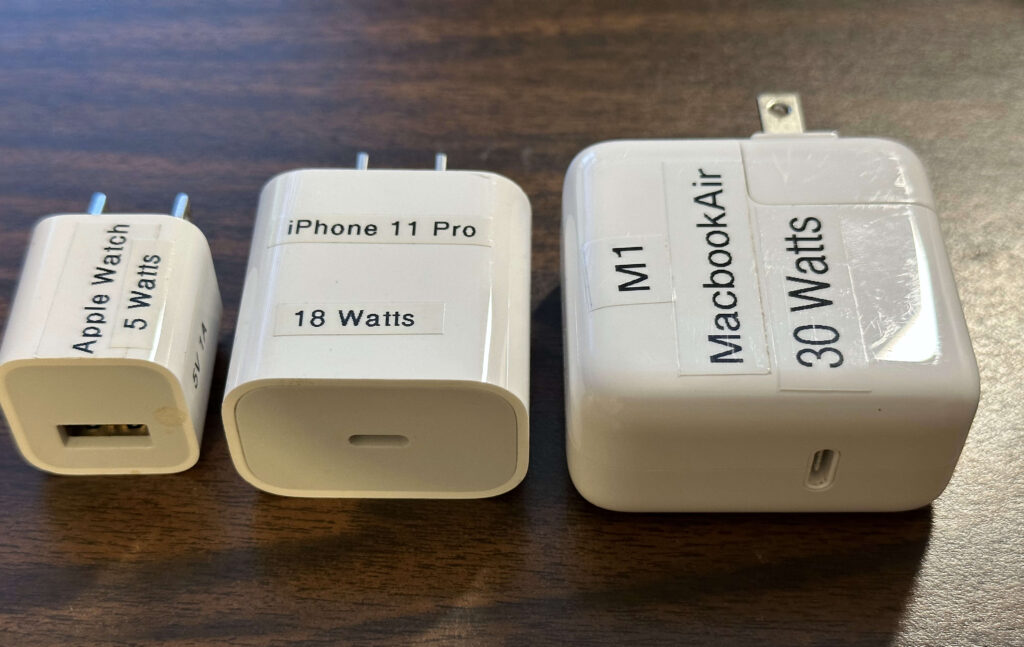 Which MagSafe Do You Mean?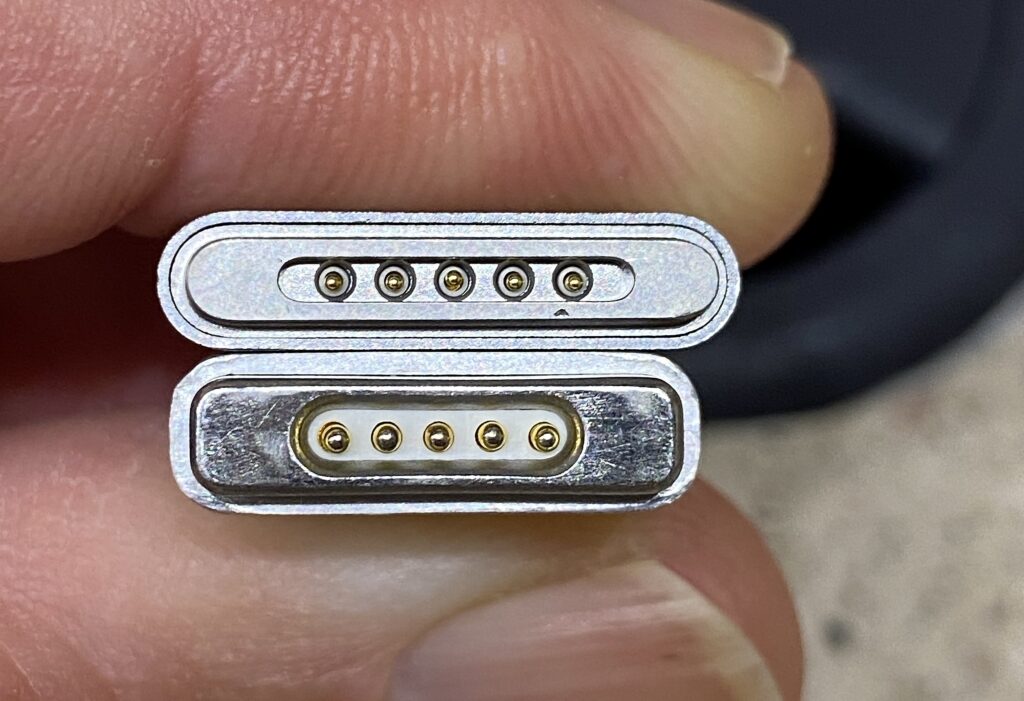 Apple has had five different, incompatible things all called MagSafe: three cable types and two wireless chargers.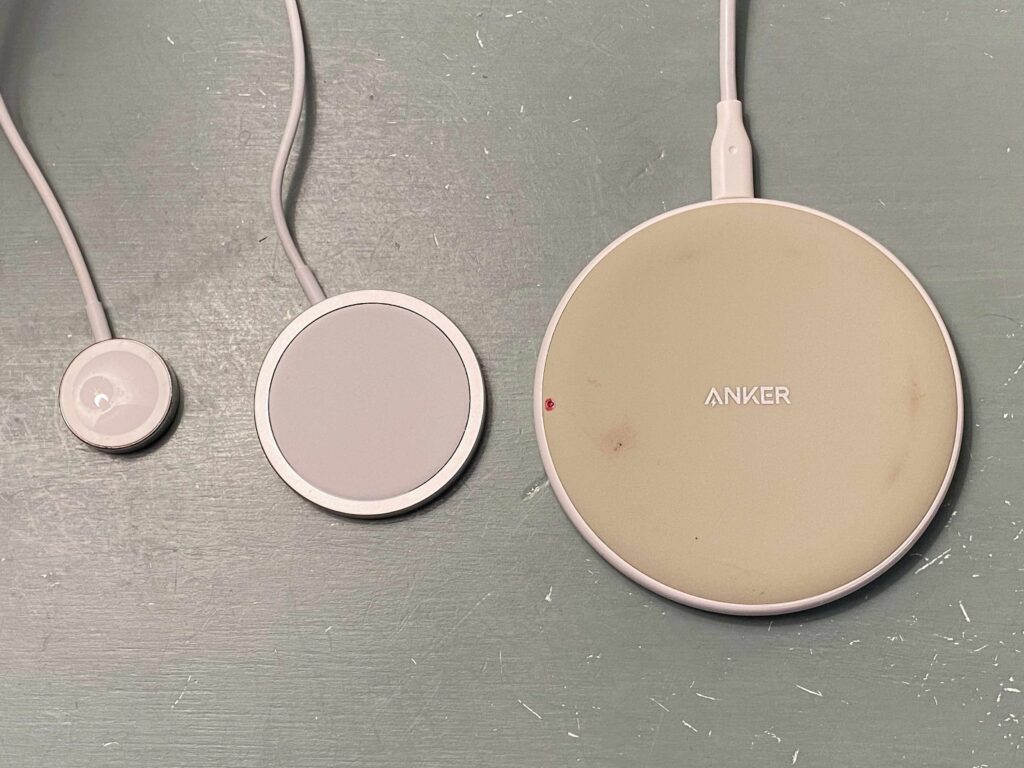 Don't Let Junky Power Damage Your Device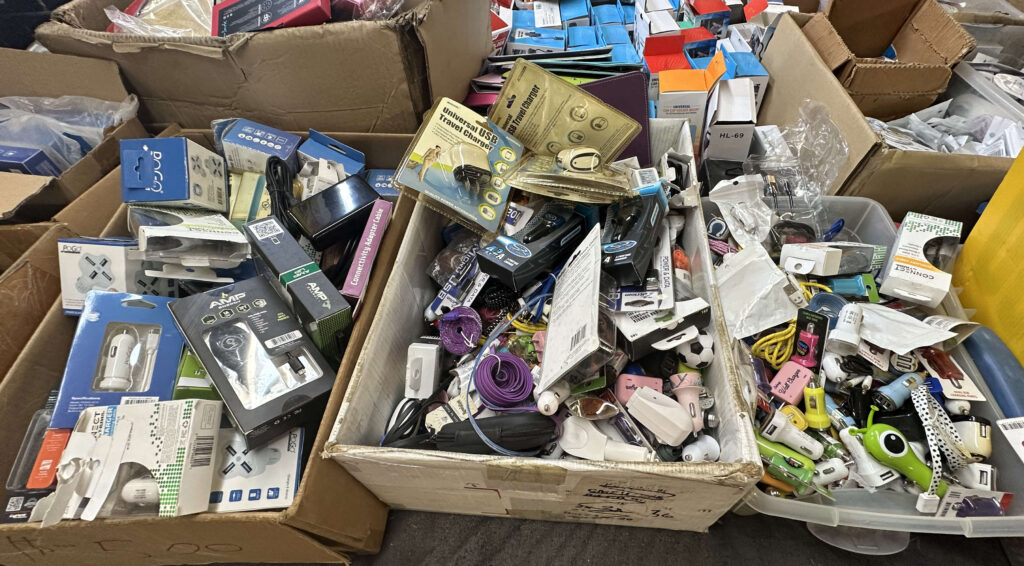 Choose reputable cables and power adapters. Apple offers the "MFi" (Made for iPhone/iPad) certification to other vendors. These products have been tested and are up to standards.
Not all cables that look alike work alike. Older or cheaper cables may work with low power devices, but may perform poorly or not at all for higher power modern devices.
Reputable brands include, in alphabetical order: Ainope, Anker, Amazon Basics, Apple, Belkin and MonoPrice. Look for emphasis on safety and clean power. Look for "MFi". Look for USB C and USB 3.x compatibility. Beware cheap deals that come in a six-pack.
Having Problems? Clean Your Lightning Port
Beware of Heat
Your device may get hot when charging. Keep it out of the direct sun, especially on your car dashboard. In the car, positioning your phone in front of an air conditioning vent can keep it cool. A hot battery may charge more slowly, if at all.
Fire Safety
Don't charge your device on the bed or upholstery, especially overnight.
Throw away old, frayed, melted or intermittent cords.
Throw away power adapters that have overheated.
Charging in the Car
Modern cars probably have USB ports for charging and for Car Play or for playing audio. Cars tend to lag behind in technology. Many still have USB A ports. It pays to check your owner's manual to find out which USB ports in your car will charge more quickly. My Honda has low-powered ports in the front, and higher-powered (12.5 Watt) ports behind the center console. Devices can charge twice as fast plugged into those ports.
Most cars have a 12 V accessory outlet somewhere (aka, the old cigarette lighter outlet). These can supply plenty of power. You can find modern adapters to get the USB power you need from these. They are much cheaper than a new car!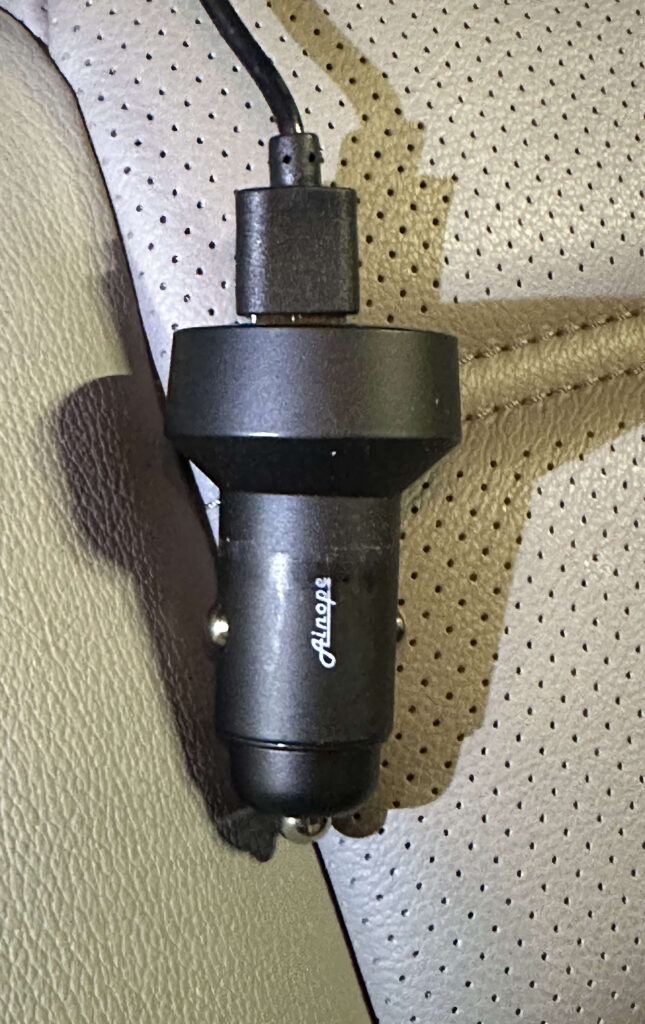 The World is Moving Toward USB C
But, USB A will be around for a long while. You should get yourself some USB A to C adapters ( both directions) to make the transition easier. They are cheap.