If you go to Walt Disney World this summer,  I think you'll find that all the credit card terminals there accept Apple Pay. At Epcot, I paid for a tee shirt with Apple Pay, and even for a coke from a refreshment stand. That saved me from ending up with a bunch of small change.
The San Angel Inn Restaurante in the Mexico pavillion at World Showcase also accepted Apple  Pay. I had already paid with a physical credit card when I saw the contactless payment logo. The waiter brought the portable terminal to the table European-style. He confirmed that they can accept Apple Pay. "It's faster,  too."
When you are in an unfamiliar store, you can get a pretty good idea of whether to try Apple Pay based on the credit card reader you see. If you see a Verifone brand credit card reader, especially if it looks like this, it is very likely to accept Apple Pay. Recognize it by the slight hood over the keypad. Some merchants have these machines and the clerks don't even know that Apple Pay will work until it happens.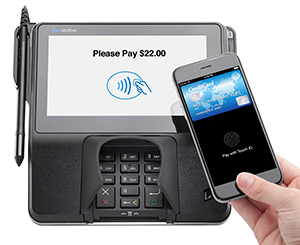 On the other hand, if you see Ingenico equipment, which is very common, Apple Pay will definitely not work at that terminal.
Happy shopping!