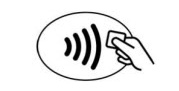 I like the convenience of Apple Pay and have been looking for places that accept it. It seems like paying for gas at the pump with Apple Pay would be convenient and more secure than using your credit card directly.
Gas purchases are unlike other purchases because you normally have to present (scan) your card before pumping gas, and before the total value of the purchase is known.
There seem to be three levels of support for Apple Pay at service stations:
Go Inside and Prepay ,"Preauthorize", a maximum limit (BP, Kangaroo, CircleK, WaWa)
Download an App that works with Apple Pay (Exxon-Mobile's Speedpass+ App)
Apple Pay works at the pump (requires new hardware at the pumps) (Texaco/Chevron)
Method 1 is  pretty useless. Any convenience factor is destroyed by having to go inside first. At BP, Discover actually rejected the transaction, but it went through on Visa. After pumping gas, I went back inside to get my receipt. The clerk was unable to print a final receipt. The only reason I would ever do this again is if my phone was the only method of payment I had with me.
When I heard about the Speedpass+ App in method 2, I was skeptical about needing an additional app, but it does have advantages. Since it doesn't require any new hardware at the pump, it can roll out immediately to all Exxon Mobile stations. The App knows which station you are at via GPS. You tell it what pump you are at, and you can complete the transaction without holding your phone up to the pump. So, you can pay without getting out of your car, if you want to.
Method 3 is probably what you were expecting from a gas station that accepts Apple Pay at the pump. You hold your phone near the pump. Your phone and the pump talk to each other via NFC. Once you begin the transaction, you have 45 seconds to start pumping gas. Chevron/Texaco is leading the pack by rolling this out extensively.
Any method of using Apple Pay is more secure than swiping your card and will prevent your card number from being stolen by scanners on the pump, or by hacked or compromised pumps. This is because Apple Pay does not give the merchant your real credit card number, but rather a one-time credit card number valid for that transaction only.