I like this small magnetic mount to hold your phone on your car dash. It clips onto the air vent. The magnet only grips your phone because you must stick a piece of steel (supplied) onto the back of your phone. That metal piece is thin enough so that it doesn't interfere with even the very thin Apple iPhone case.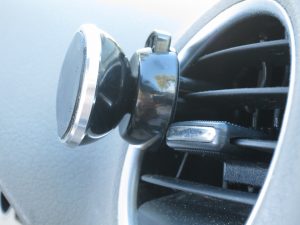 The magnetic attraction is strong enough to hold your phone in place unless you crash.
The clip holding the mount to the air vent isn't quite as strong. It has beefy rubber jaws and a strong spring, but sometimes the mechanism sticks, resulting in a less-than-tight grip. I lubricated mine with some silicon spray and worked it back and forth, and it gets a good grip now.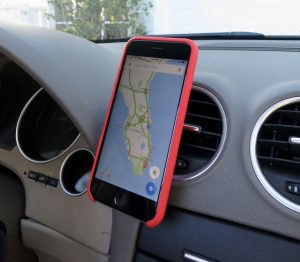 I like this mount because when you get in the car, you can just stick the phone up there. No fooling around with clamps, etc.  — it just sticks on and you are ready to go. In most cars, it won't block your view out the windshield or your view of the instruments. It's ideal if you use your phone for navigation. You have a few inches of flexibility up or down as to where you place the phone for the best positioning in your car.