Our main monthly program meeting, the more formal of our two meetings, is held on the third Tuesday of each month from 6:30 to 8:00.
The next meeting will be at One Senior Place. This nice facility is located off of Murrell Road, near the Wickham Road / I-95 Interchange (Exit 191).
Use caution entering One Senior place! There is a manhole in the entry drive which is dangerously above grade. It presents a serious hazard to any vehicle with low ground clearance including sports cars and wheelchair vans.
One Senior Place
8085 Spyglass Hill Road
Melbourne, FL 32940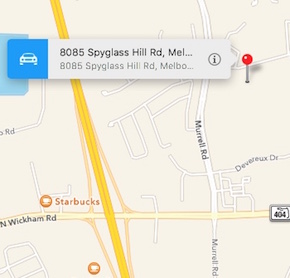 This meeting will feature presentations on various topics of interest to all of our Macintosh enthusiasts and usually includes a guest speaker with a presentation, and often a hardware or software demo.
After each meeting we all go out to dinner together (sometimes referred to as The Meeting After the Meeting). The quieter, less crowded setting allows for easier discussion, with no computers to distract us. Many of the real club decisions happen at this meeting. Please come and join us. All are welcome!
MacMAD meetings are open to everyone from novice to pro. Visitors and MacMAD members alike are welcome to attend.
We found a great meeting venue at One Senior Place, but we are by no means a "senior" group. All ages are welcome.