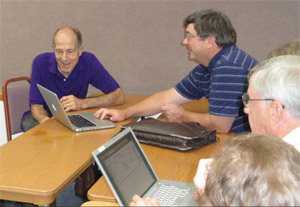 On the first Wednesday of every month, MacMAD members enjoy a help session, where we offer assistance on Macintosh, iPhone, iPad and other Apple products. This is the least formal of our two monthly meetings. Visitors are welcome and encouraged. So, please bring guests!
So jot down your questions and come on out to see what other users are doing with their Macs.
The first Wednesday help session meets from 6:30 to 8:00 at the Eau Gallie Public Library in Melbourne. Bring your questions to this meeting along with the Apple gadget you are having trouble with.
One of our members will do their best to help you resolve your problem. This meeting is about spontaneous, one-to-one interaction.
We are looking forward to seeing you at our next meeting.